These days, everyone has their own secret weapon when it comes to skincare. For most of us, it's important to know what we're putting in and on our bodies to make sure we stay healthy and looking great for years to come. At my office, we're on the same beautiful boat!
In today's blog, we'll be breaking down 4 fantastic DIY recipes from my book that can help you take your skin's radiance to the next level.
Five Trustworthy Skin Care DIY Recipes
1. Chamomile has an abundance of benefits!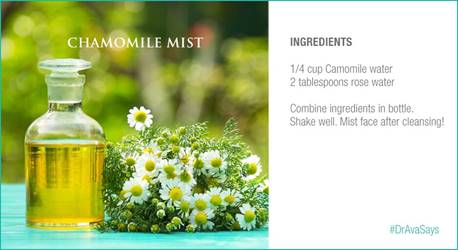 So many people love chamomile tea for its calming effects and gentle nature. But did you know that chamomile is actually great for your skin as well?
If you want to add an extra level glamor to your routine, you can create this DIY chamomile mist from my book, Heal Your Skin. It promotes smooth and glowing skin because of its anti-inflammatory and anti-bacterial properties.
Use it after cleansing or when your skin feels dehydrated during the day. Your skin will thank you!
2. Blueberries not only taste great – they're good for your skin too!
The deep blue color in blueberries is a result of powerful antioxidants that help protect the skin against harmful free radicals that can damage collagen.
They are also packed with Vitamin C, which also helps with collagen production. That's why blueberries are recommended as a superfruit that can help your body inside and out.
For many of us, relaxing with a facemask on is a staple of any self-care routine. So, try this simple DIY blueberry mask to experience the benefits for your skin.
3. Honey Can Sweeten Up How You Feel About Your Skin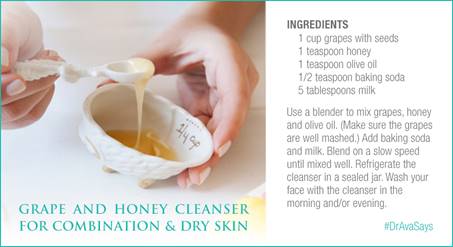 Honey is great for combating acne, because of it's naturally antibacterial properties. This sweet superfood also contains powerful antioxidants, which help slow down the aging process.
Many products that you can pick up at the store are filled with chemicals and extra additives that don't benefit your skin. When you're using a cleanser, make sure you've spoken to your dermatologist about the ingredients and how they'll affect you.
One of my favorite things to do is work with my patients to create a great and effective skincare routine for them. If you want something natural to try at home between office visits, create this simple and natural DIY honey cleanser.
4. Forget about Avocado on Toast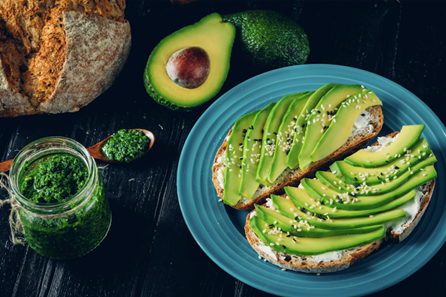 Eating well is not only satisfying, but it's good for your skin. One of my favorite skin-friendly foods is avocado.
Avocados are loaded with antioxidants and oils that moisturize your skin. They are a great source of biotin and also contain heart and skin-healthy monounsaturated fats – which provide the ceramides that are important in creating healthy skin cells, because they contribute to skin's natural oil barrier and can help reduce dryness.
This happens not only when you eat them, but when you apply them too!
Everyone loves avocado on toast, but you can always try using avocado in an at-home, DIY mask treatment.
½ Avocado

1 egg white

1 tablespoon yogurt

⅓ teaspoon lemon juice
Mix all ingredients in a bowl. Apply to damp skin and leave on for 10-15 minutes. Rinse off with room-temperature water and enjoy your beautiful skin!
5. DIY Your Own Toner
Toners not only make your skin feel clean and fresh, they also help rebalance your skin's pH. A few years ago, only a select few beauty-gurus used toners to improve the appearance of their skin. As more and more people are investing in a solid skincare routine, toners are becoming more widely used.
In addition to balancing your skin's pH, toners also penetrate your pores deeper than a standard cleanser, helping to remove extra residue. As a result, many people notice that they're struggling less with acne and excessive oil.
This DIY toner is gentle and natural, yet still cleans pores deeply because of the anti-inflammatory properties and refreshing quality of witch hazel and rosewater.
To apply toner correctly:
Cleanse and gently pat dry your face.

Moisten a cotton pad with toner.

Apply the cotton pad in a sweeping motion across your face.

Immediately follow with serum and/or moisturizer and sun protection.
If you have any questions, don't hesitate to reach out and schedule an appointment. I also work with patients across the United States through my app, where you can schedule convenient Ava MD Telederm appointments at your leisure.