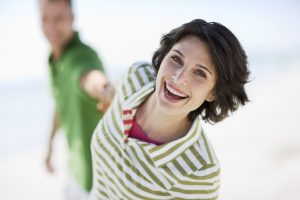 Even with the most diligent diet and exercise routine, some of us have difficulty losing stubborn pockets of fat. Belly fat, love handles, back fat, spare tires and saddlebag thighs are often determined by genetics and as such do not resolve on their own. Until recently, the only way to effectively eliminate fat from those areas was by undergoing a surgical procedure, such as liposuction. But thanks to advances in technology, we now have revolutionary new nonsurgical body contouring processes, such as Zeltiq's CoolSculpting and DualSculpting fat freezing treatments, which can help patients reshape their body and fit into their favorite clothing with minimal downtime, risks, and side effects.
Non-Invasive Body Sculpting with Freezing the Fat
CoolSculpting works by using a cryolipolysis – a technique that literally freezes fat cells, causing them to die off and be eliminated permanently from the body. It's important to note that simply "icing" the area or trying any other do-it-yourself technique cannot obtain the same effects. Because fat freezes at a higher temperature than water, a dermatologist closely monitors the CoolSculpting device in order to deliver the correct temperature to the treatment site without adversely affecting the surrounding tissues. Thus, in the hands of a professional, side effects from CoolSculpting's fat reduction treatment are minimal.
How can the CoolSculpting reshape your body? Here are some of the areas that nonsurgical body sculpting can treat:
1. Pinch Off Your Muffin Top
If you haven't been able to get rid of your muffin top or other belly fat, nonsurgical CoolSculpting may be the solution for you. During the procedure, your dermatologist will use the CoolSculpting applicator to suck in the area to be treated, targeting the fat cells with a precisely calibrated degree of cooling that freezes them without affecting the skin, muscle or other tissues.
Once the fat cells have been destroyed, they are gone for good. It will take your body up to one to three months to completely eliminate the destroyed cells from your body. At that time, full results from your procedure will be visible – but your muffin top won't be! Unless you regain weight, the CoolSculpting process will remove or diminish it permanently.
See CoolSculpting Before-And-After Photos at CoolSculpting.com.
2. Create a Curvy Waist
If you're frustrated by a having a waist that looks straight up and down, or by "love handles" that won't go away, CoolSculpting can be used by your dermatologist to reshape that area and give you the curves you desire. During your body contouring consultation, feel free to bring in photos of your ideal body shape so that your dermatologist can discuss with you the results that are possible, given your natural physiognomy. Setting realistic expectations is an essential component of any successful dermatologic procedure – whether surgical or nonsurgical.
3. Throw Off Your Saddlebags
Thanks to a new CoolSmooth applicator tip that eliminates the need to treat only areas that are "pinchable," we can now eliminate fat cells in places that we were previously unable to reach. When fat contouring an area such as the outer thighs, which may have a layer of cellulite that's less than an inch thick, we simply run the applicator tip over the targeted area.
Also, we now offer "DualSculpting," which allows us to treat two areas of the body simultaneously. Because it takes about one hour to body contour a single area using CoolSculpting, DualSculpting can cut the treatment time in half when there are two areas that need to be reshaped. Both thighs, or both sides of the waist, etc., can be sculpted at the same time, rather than using one machine to treat each side sequentially.
4. Back Off the Back Fat
If back fat, bra bulge, flabby arms or other smaller spots trouble you, CoolSculpting can help your body look sleek and fit. Even if there are just small areas of fat that can't be pinched, the new CoolSmooth applicator can be used to treat them. The result from this liposuction alternative is lingerie and bathing suits that fit better, with minimal to no embarrassing bulges.
And while CoolSculpting is best known for fat contouring the body, you can also use it to get rid of or diminish a double chin. Learn more about the procedure at the official CoolSculpting website.
Get CoolSculpting Treatment Today
The risks and side effects associated with CoolSculpting are minor and include such incidences as sensations of tugging, aching, tingling, and feeling cold during the procedure. Immediately afterward, the treated area may be red or swollen but will return to normal quickly. Side effects should resolve within one to two weeks. Full results are visible after four to twelve weeks.
To get a better idea of how CoolSculpting works and how satisfied patients are with their results, schedule a consultation with the dermatologists at Ava MD. Contact us directly at our Santa Monica office at 310-736-6146 or at our office in Beverly Hills at 310-439-5417. You can also reach out to us online to schedule a consultation and learn more about how a CoolSculpting treatment can help you.